click on the images to see a larger picture
A web site owned and maintained by Brunel Microscopes Ltd

click on the images to see a larger picture
Brunel Microscopes Ltd, Unit 2 Vincients Road, Bumpers Farm Industrial Estate, Chippenham, Wilts SN14 6NQ. Tel: 01249 462655. mail@brunelmicroscopes.co.uk
Watson Stereomicroscope
A very nice example of this classic Watson stereo, with a very well thought out design. Finished in blue/grey enamel, the turret mounted objectives are x2.5, x5 and x10 and are matched with a pair of x10 eyepieces giving a magnification range of x25 to x100. The microscope has a jointed quite long flexible light unit that can provide either incident illumination or is potentially long enough to shine light onto the substage mirror system to provide transmitted light. Dating from around 1960 this is a nice instrument.
Price £185.00 + vat
sold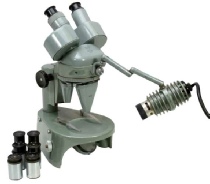 Watson Stereomicroscope
A excellent example of this classic British microscope. Rotating turret with x2.5, x5 and x10 objectives which with the x10 eyepieces gives magnification options of x25, x50 and x100. The unit has its original arm rests and an ingenious 'gliding' stage system which allows the top plate to be moved in any direction. Mirror through the base illumination. Complete with original wooden case.
SOLD
Watson Service Stand
A Watson Service stand only, serial number 90564. No objectives, but complete with condenser and mirror triple turret, plain stage with slide clips. very good chrome and general body work..
Price £45.83+ vat
Watson Service 11
An all original Watson Service 11. The stage, body and chrome of this microscope are excellent and all original. Objectives x40 and 16mm. Ex Zoology department of UCL. Original wooden case although the strap shows the signs of age.
SOLD
Vickers Patholette
In its day this was probably the microscope of choice for education and schools and there are many used examples. However this one is in very good condition and is now clearly a collectors item. All original with objectives x4, x10, x40 and x100 (oil) with x10 eyepiece. Mechanical stage, condenser with flip top lens coaxial coarse and fine focus. Light unit.
Price £187.50 + vat
sold
Prior Binocular
A classic microscope from the British manufacturer Prior. The model is all original and is now a collectors piece. Finished in beige enamel with a black binocular head. Large square mechanical stage with drop down controls. The coarse and fine focus mechanisms are combined into a single control. 6v 15watt Kohler illumination system with a voltmeter display. Focusing condenser with lateral adjustment controls and iris diaphragm. Objectives x10, x40 (0.70) and x100 oil immersion (1.30). x10 eyepieces
Price £287.50 + vat
B&W Stereoscope
This is not a microscope, but an optical system to produce 3D images from 2 photographs that were taken originally from slightly different angles. This type of equipment was very popular in Edwardian times for home use. However this particular unit appears from the case markings to have been used during the 2nd World War to have been used to study bomb damage from aerial photographs. All complete and original with full instructions attached to the lid of the case. A very rare item in excellent condition.
Price £300 + vat
Reichert Viewing Screen
A rare accessory these days, this is a frosted glass viewing screen that will fit the Reichert Zetopan microscope series. The unit is complete with screen shade and its original case.
SOLD
Baker Monocular
A good example of this classic Baker microscope. All original with objectives x3, x10, x40 and x100 (oil immersion) with x10 eyepiece. Mechanical stage with central drop down coaxial controls. Coaxial central coarse and fine focus controls on the base. Focusing substage condenser with centring controls and iris diaphragm. 240v mains illumination. The only negative is a few small paint chips low on the base.
Price £179.17 + vat
CTS Binocular
This binocular compound microscopes dates from the time when British microscope manufacture was realigning itself. As a result this CTS has some Vickers, Bake and Cooke Baker components. The microscope is all original and in good condition and fully functional. CTS serial number M154147 with x8 compensating eyepieces. Objectives x5 Vickers, x10 Baker, x40 microplan Cooke Baker and x100 (oil) Cooke Baker (numerical aperture 1.30) . Full substage condenser, mechanical stage and light unit (Vickers transformer). Very good condition.
Price £208.33 + vat
Prior Monocular
This is a good example of a British made Prior microscope, finished in dark green enamel with brushed brass controls. Separate coarse and fine focus controls. Objectives x4, x10 and x40 with a wide field x10 eyepiece. Mirror illumination and a focusing substage condenser with iris diaphragm. Mechanical specimen driver. Custom made wooden case. There is a very slight off centre movement of one of the coarse focus controls, but this does not detract from its use or appearance. A nice looking microscope
Price £112.50 + vat
Watson Bactil Binocular 60
Through the 1960's and 70's hospital pathology laboratories were totally dependent on these microscopes. To describe them as the 'workhorse' of NHS diagnosis from that period would be accurate. This is a functional microscope and also a collectors piece. Obviously the stand shows evidence of its intensive use, but as a microscope it still works excellently - and it has the original wooden case which is unusual these days. Apart from a x20 Beck objective it is all original with Watson 2mm (1.30) and 4mm para x4 objectives.
Price £145.83 + vat
Watson Bactil Binocular
The Watson Bactil is in truth an iconic microscope with the earlier models finished in black livery and the later versions in white. This example has the serial number 122220 and is in reasonable condition for its age. An ideal microscope for those starting a collection because this is an 'all original' microscope. Objectives x10, x50 and x100 with x6 eyepieces. Mechanical stage and full substage condenser with iris and filter carrier. This unit has all the mechanical refinement associated with the Bactil 'brand' - the dovetail moving head and the inter papillary adjustment mechanism being just two of these.
Price £183.33 + vat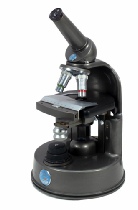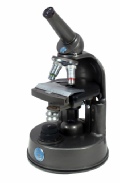 Baker Monocular
This microscope dates from the days that the principal microscope manufacturers began to merge their production lines. This Baker microscope is the same shape as Vickers models of the same time. This is all original in in good condition. Objectives x3, x10, x40 and x100 (oil immersion) with a x10 eyepiece. Mechanical stage with coaxial front positioned controls. Full substage condenser with flip top lens. Tungsten illumination. Front coaxial coarse and fine focus controls. A few small chips on the paint work but altogether a nice microscope.
Price £179.17 + vat
Beck Model 48 Binocular
This is one for the collectors. During our 36 years of trading we have never seen a Beck 48 in this good a condition. The paint work and chrome are virtually pristine. Everything about this microscope is original including the case (with lock and key). Objectives 2mm Apo (1.30), 4mm Apo (0.95) and 16mm Apo (0.35) brushed brass objectives that still has their original objective pots. Condenser n.a. 0.93. x10 and x6 eyepieces. A magnificent microscope.
SOLD









Baker Monocular
This is a fine collectors piece in very good order with all parts original and working well. Unusually it is complete with its original carrying case and key. It is difficult to fix an exact date of manufacture. Charles Baker was at 244 High Holborn from 1855 to 1959 when they were taken over by Vickers. No serial number list exists although the last was in the region of 40,000. This microscope has serial number 20158 and since the majority of Baker models were built towards the end of the period a reasonable guess would be 1930 or so. Finished in black enamel the body work and chrome parts are in good condition. Circular rotating stage with chapter ring and a worm screw mechanical slide attachment. Coarse and fine focus and a draw tube. Separate coarse and fine focus and a focusing condenser with iris and filter carrier. Objectives x19 (0.25), x40 (0.73) and x100 (oil) (1.25). Eyepieces x10 and x5. Mirror illumination and there is some tarnish to the mirror surface on the concave side. Original case, objective pots and key.
Price £175.00 + vat



Vintage Prior Stereomicroscope
This excellent Prior stereomicroscope would date from the 1950/1960's and for its age is in immaculate condition. Finished in a high quality back paint with brass control elements it is complete with the detachable sidearms which all too frequently get lost. Even better it has its original case with lock and key. The microscope has a total of four objective pairs mounted on a push/pull rail. Three can be mounted at any one time and they are extremely easy to change over - no tolls required. The objectives are x0.7, x2, x4 and x10 which with the x15 eyepieces allows magnification options of x10.5, x30, x60 and x150. There is a glass dissecting area and the raised stand has a substage mirror that can be used for transmitted lighting. The condition of the box is very good. This is a fine vintage microscope and its value will increase in coming years and is a sought after collectors piece
SOLD