Optical Mineralogy
Deals in considerable detail with the whole issue of the microscopy of minerals ranging from the examination of thin rock sections to small fragments of rock. There are detailed descriptions of a large number of minerals with photographs and drawings. Written by Rogers and Kerr, this is a hard backed book with 390 pages including an index. Condition good.
SOLD
Journal of the Royal Microscopical Society
The standards laid down by the Royal Microscopical Society (RMS) are responsible for many of the standards in microscopy to this day - including the size of microscope slides (3x1 inches)
This is a bound copy of the Journal of the RMS from 1902 - edited by Hebb. There are 780 pages with an index and the papers include many excellent drawings of the time and surprisingly a plate of black and white photographs which would have been very expensive at that time. Extremely good condition.
Price £45.00
A web site owned and maintained by Brunel Microscopes Ltd
click on the images to see a larger picture
click on the images to see a larger picture

Brunel Microscopes Ltd, Unit 2 Vincients Road, Bumpers Farm Industrial Estate, Chippenham, Wilts SN14 6NQ. Tel: 01249 462655. mail@brunelmicroscopes.co.uk
Ferns
A volume from Peterson Field Guide written by Boughton Cobb and providing the definitive guide to the ferns of Northeastern and Central American ferns. 281 pages with many illustrations and diagrams.
Price £13.00
Immunology
A compilation of readings from 'Scientific America' that relate to Immunology. 1976. A mine of information about this important topic. Paper backed with 269 pages. Many illustrations and a full index.
Price £10.00
Insects Part 11
Written by David Sharp and dated from 1901, this is an encyclopedic volume dealing with insect structure. Hard backed and with 624 pages this book is in good condition for its age.
Price £14.00
The Sea Shore
If you are interested in the sea shore its all in this book. It covers the larger animals as well as the small that need a microscope. Dated from 1903 it is in good condition for its age. 486 pages and hard backed. There are some colour plates which is relatively rare at that time.
Price £10.00
Clinical Pathology
A definitive account of the pathology of disease from 1951. This covers laboratory testing procedures and their significance in diagnosis. Written by two eminent pathologists of their day, May and Marrack. Hard backed with 512 pages.
Price £13.00
Quekett Journals Index
A Quekett Microscopical Club publication compiled by M J Newstead in 1994. It is the cumulative index to the Quekett Journals of Microscopy Volumes 1 to 36 covering 1868 to 1992. Hard backed covering 243 pages. Excellent condition.
Price £14.00
Mushrooms and Toadstools
From the Collins New Naturalist Series this is a description of the mushrooms and toadstools found in the UK. Written by J Ramsbottom and reprinted here in 1977. Hard backed with original dust cover. 306 pages with numerous black and white photographs. Very good condition.
Price £13.00
Structural Botany - Flowering Plants
An introduction to structural botany - part 1 - Flowering Plants. Written by Scott and Brooks and published by A & C Black in 1927. Numerous drawings. Hard backed with 308 pages. Good condition for its age.
Price £12.00

Working with the Microscope
This is the sort of book that we are always asked for but is not currently in print anywhere. After a short introduction about how microscopes work the majority of the book deals with the preparation and staining of specimens of all types in readiness for microscopic examination. This is literally a mine of information. Hard backed with 418 pages including an index. Condition good.
SOLD
Single Lens
This is a historical review of the history of the single lens simple microscope and the discoveries that this basic of scientific instruments made. Fascinating read. Hard backed with dust cover, 182 pages and written by Brian J Ford
Price £10.00
A Histology of the Body Tissues
This is an excellent treatise on Human tissue structure which also considers function which in many ways dictates structure. Written by Margaret Gillison and published by E & S Livingstone in 1966 it has many photographs and drawing including two full page colour plates covering blood cell structure. Hard backed with the original dust cover and 270 pages. Condition very good
Price £10.00
The Seeing Eye
Not specifically about microscopy but more fundamentally than that this book is about the eye and how we see things. Fascinating read. Written by H Asher and hard backed with 271 pages, good condition.
Price £ 8.00
God Bless the Microscope
Written by Gerard L'E Turner (a prolific microscopy book writer) this is a complete history of the Royal Microscopical Society (RMS) over 150 years. Hard backed with 166 pages and some excellent photographs down the ages. Excellent condition.
Price £10.00
Elements of Medical Mycology
Written by Jacob Swartz in 1945 this hard backed book remains very relevant today. The 223 pages describe the structure of fungal elements that are responsible for disease processes and also describes the clinical manifestation of the disease using photographs. There is an impressive fold out A3 size identification chart of pathogenic fungi attached inside the back cover.
Condition good.
SOLD
A Guide to Human Parasitology
Published in 1961 this covers the whole area of human parasites and remains very relevant to this day. Hard backed, written by Blacklock and Southwell and published by H K Lewis & Co London. This was written as a guide for medical practitioners and its 223 pages contain many drawings and photographs including two full colour plates. Original dust cover and in good condition.
Price £14.00
Freshwater Microscopy
This would be an ideal book for anyone with an interest in pond life. The book takes you through specimen collection, preparation and identification. Written by W J Garnett in 1965, it provides the depth and wealth if information that we now expect from an Internet search. Hard backed with 376 pages including an index. Original dust cover.
Price £10.00








The Microscopic Photographs of J B Dancer
John Benjamin Dancer was an optician who lived most of his life in Manchester. He was the inventor of microphotography. The Dancer microscopic photographs averaged 1/8" inch in diameter and were produced as a scientific novelty to be viewed through a microscope. This excellently presented book brings together for the first time a nearly complete representation of the Dancer 1873 collection with biographical information on each microscopic photograph. Written by Brian Bracegirdle and James McCormick. Hard backed with 280 pages and a hard backed sleeve. Condition excellent
Price £40.00
Minerals Rocks and Precious Stones
This is an excellent field guide for the mineralogists, packed full of excellent colour photographs it is designed to provide recognition of minerals and rocks from the gross specimen as far as that is possible. Written and compiled by Dr Jaroslav Bauer. Hard backed with 208 pages including an index. Good condition. .
Price £14.00
Journals of the Quekett Microscopical Club
The Quekett Microscopical Club is a learned society for the promotion of microscopy. Its members come from all over the world, and include both amateur and professional microscopists. This is a bound Volume 29 edition of the Journal including numbers 1 to 12 and dating from 1962 and in very good condition
Price £25.00
Collecting Microscopes
A must for antique microscope collectors or for those with a fascination with the microscopes that saw the microscopic world around us for the first time. Based on microscopes that have been sold by auction. Includes prices as they were in 1981 . Hard backed with many excellent quality coloured photographs. 120 pages Compiled by Gerard L'E Turner.
Price £18
Cooke Microscope Manual
This is a manual from a bygone age of UK microscope production. Published by Cooke Troughton and Simms it covers both compound and stereomicroscopes and measuring with a microscope - a mine of information. Card backed with 78 pages. Good condition.
Price £15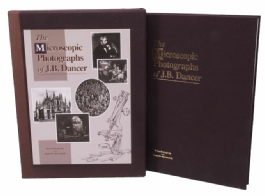 Modern Microscopy
It is probably never a good idea to use the word 'Modern' in a book title as it becomes out of date quickly. However much of this book is still very relevant today. The book is in two sections the first deals with microscopes as they were in 1912 with some classic drawings of instruments. The main part of the book deals with specimen preparation with detailed techniques that are difficult to find today but are still the right way to do things. In particular there are excellent sections on preparing wood sections and diatoms for microscopy. Written by Cross and Cole, it is hard backed with 323 pages with index. Good condition.
SOLD





Crystals and the Polarising Microscope
This is a book for the specialist geologist and covers an area where mathematics meets microscopy. Angles are everything in geology. Written in 1950 by Hartshome and Stuart it deals with this complex area from a very practical microscopy perspective. Published by Edward Arnold it is hard backed with dust cover. 473 pages with index and many diagrams and trigonometry angles
Price £18