Life in Lakes and Rivers
This book is part of the Collins Naturalist Series. Written by Macan and Worthington it covers all aspects of life in lakes and rivers, part of which of course is microscopic, but it also covers water quality and environmental issues. Numerous plates, photographs and text figures. Hard backed with 320 pages an an index. Original dust cover.
SOLD
A web site owned and maintained by Brunel Microscopes Ltd
click on the images to see a larger picture
click on the images to see a larger picture
Brunel Microscopes Ltd, Unit 2 Vincients Road, Bumpers Farm Industrial Estate, Chippenham, Wilts SN14 6NQ. Tel: 01249 462655. mail@brunelmicroscopes.co.uk
Ferns
A volume from Peterson Field Guide written by Boughton Cobb and providing the definitive guide to the ferns of Northeastern and Central American ferns. 281 pages with many illustrations and diagrams.
Price £6.00
Journal of the Royal Microscopical Society
The standards laid down by the Royal Microscopical Society (RMS) are responsible for many of the standards in microscopy to this day - including the size of microscope slides (3x1 inches)
This is a bound copy of the Journal of the RMS from 1902 - edited by Hebb. There are 780 pages with an index and the papers include many excellent drawings of the time and surprisingly a plate of black and white photographs which would have been very expensive at that time. Extremely good condition.
Price £45.00
The Sea Shore
If you are interested in the sea shore its all in this book. It covers the larger animals as well as the small that need a microscope. Dated from 1903 it is in good condition for its age. 486 pages and hard backed. There are some colour plates which is relatively rare at that time.
Price £10.00

The Microscopic Photographs of J B Dancer
John Benjamin Dancer was an optician who lived most of his life in Manchester. He was the inventor of microphotography. The Dancer microscopic photographs averaged 1/8" inch in diameter and were produced as a scientific novelty to be viewed through a microscope. This excellently presented book brings together for the first time a nearly complete representation of the Dancer 1873 collection with biographical information on each microscopic photograph. Written by Brian Bracegirdle and James McCormick. Hard backed with 280 pages and a hard backed sleeve. Condition excellent
Price £40.00
Handbook of Photomicrography
Although this book was written in 1913 by Hind and Randles many of the principles of taking photographs down a microscope still apply today. There are many excellent illustrative examples such as the whole flea shown. Hard backed with 292 pages and an index. Excellent condition for its age.
Price £15.00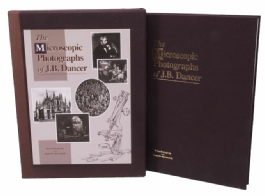 Animal Biology
Written by Grove and Neville in 1971, this is a definitive book covering the animal kingdom from microscopic life to insects to mammals. A well crafted and very informative volume. Hard backed with 910 pages and an index. Very many illustrations and diagrams. Very good condition.
SOLD
Mushrooms and Toadstools
From the Collins New Naturalist Series this is a description of the mushrooms and toadstools found in the UK. Written by J Ramsbottom and reprinted here in 1977. Hard backed with original dust cover. 306 pages with numerous black and white photographs. Very good condition.
Price £6.00

Cooke Microscope Manual
This is a manual from a bygone age of UK microscope production. Published by Cooke Troughton and Simms it covers both compound and stereomicroscopes and measuring with a microscope - a mine of information. Card backed with 78 pages. Good condition.
Price £15.00


Structural Botany - Flowering Plants
An introduction to structural botany - part 1 - Flowering Plants. Written by Scott and Brooks and published by A & C Black in 1927. Numerous drawings. Hard backed with 308 pages. Good condition for its age.
SOLD
The Seeing Eye
Not specifically about microscopy but more fundamentally than that this book is about the eye and how we see things. Fascinating read. Written by H Asher and hard backed with 271 pages, good condition.
Price £ 8.00
God Bless the Microscope
Written by Gerard L'E Turner (a prolific microscopy book writer) this is a complete history of the Royal Microscopical Society (RMS) over 150 years. Hard backed with 166 pages and some excellent photographs down the ages. Excellent condition.
Price £10.00
Insects, Ticks, Mites and Venomous Animals
This is simply a magnificent book for the subject matter and has an expanded relationship chart as can be seen in the photograph. This is not for the faint hearted and contains due space for some of the worlds 'nasties'. This is actually a compendium of a series of university lectures. Dates (but is not 'dated') from 1929. Written by Patton and Evans and is hard backed with 786 pages and an index. Pull out chart,
SOLD



The Technique of Photomicrography
Although this book was written in 1960, the principles that it describes are just as relevant for today - the rules of optical physics haven't changed. Written by Douglas Lawson it has many illustrations as would be expected. Hard backed with 256 pages with index. Interestingly there is a letter written in 2008 from someone who knew the author.
Price £10.00
Microscopic Freshwater Life
This excellent book has been well used over the years undoubtedly because of its content which is detailed and far reaching. Written by Plaskitt, and according to the fly leaf originally owned by G T Gibson in 1926, this hard backed book provides a full and in depth description of the organisms found in freshwater with a chapter devoted to each - diatoms, algae, desmids etc. 227 pages with an index. It is perhaps sad that books like this are no longer published, with the 'Google' search replacing them. However, with a book like this the information is all in one place - and at hand!.
SOLD

Freshwater Microscopy
This is one of those discarded library books that should not have been and has come into our hands via somebody who saw its value and purchased it. Of all the subjects that we get asked microscopes for the largest by far is the examination of freshwater. Written by W J Garett in 1953 this book deals with the detail of collecting freshwater samples and identifying their contents. Hard backed with many plates and drawings. 300 pages with an index.
SOLD

The Polarising Microscope
This excellent book was published by Vickers Instruments at a time when microscope manufacturers took a responsibility to provide information to those that bought their microscopes as part of their continuing development and understanding. This does not seem to happen these days. Written by A F Hallimond in 1970 this is a comprehensive discourse about polarising microscopy that brings geometry and microscopy into the same page, In truth is book is not really designed for those with a passing interest on polarising microscopy, but would be an encyclopaedia for the geologist. Hard backed with 301 pages and an index. Very good condition.
SOLD
The World of the Soil
As we wake up to the need to recognise the natural processes around us an understanding of the soil beneath our feet is obvious and this is a book perhaps before its time in recognising this. This book looks at the whole picture of ecology and the effect of man on landscapes and what we re doing to the earth we stand on. Hard backed with 237 pages and an index. Written in 1959 and with many plates and drawing this is a book 'before its time'
SOLD
Microscope Design and Construction
If you want to know why light microscopes are made the way they are this is the book for you. The information depends on the laws of light physics and as such are dateless. Read this and you will know all there is to know about the light microscope. Published by Cooke Troughton and Simms in 1954. Hard backed with 201 pages and an index.
SOLD
Introduction to Parasitology
This is a detailed account of parasites at university standard level. It deals with protozoa, helminths, arthropods (ticks, fleas etc) and so on. There are many illustrations of the little beasts in question. Hard backed with 715 pages and an index. Written by Chandler in 1946 but still very relevant today. Recommended.
SOLD
Under the Microscope
Written by three authors; Curry, Grayson and Hosey. This is the complete microscope book at a level of detail well suited to the amateur microscopist who doesn't want to be bogged down in too much detail. It takes you through the structure of the microscope and even tells you how to make one! Other chapters deal with mounting specimens, minerals, photography and more specialised methods. Many photographs and illustrations. Printed in 1982 it is hard backed with 160 pages and an index. A good book.
Price £12.00

The Intelligent Use of the Microscope
The title of this book may sound perhaps a little pompous but the author (C W Oliver) simply wants to impart knowledge to allow any microscope user to get the best out of their instrument. For this you need to know what each bit is for and how it should be used correctly. In this respect it is a good book and in good condition. Printed in 1951 it is hard backed with 192 pages that are well illustrated. There is also an index
SOLD
A Guide to the Morphology of the Diatom Frustule
The title of this book says it all really. Effectively it is an illustrated dictionary of the diatom. Each defining internal structure is illustrated. Written by Barber and Howarth and published by the Freshwater Biological Association, its is paper backed with 112 pages and an index.
SOLD
Biological Microtechnique
This excellent book tells you just about everything there is to know about microscope slide preparation including wax embedding, microtomy and staining methods for both plant and animal material. Written by J B Sanderson and published by the Royal Microscopical Society it is still available on a single print basis which makes it expensive at £45 but in my opinion well worth it. This book is in good condition. Paper backed with 224 pages and an index and many recipes.
SOLD
March of the Microbes
This very interesting book is a read more than reference book. It is making the point that although we often can't see them without microscopes that microbes of all sorts actually dominated the planet. Having see what a virus can do to the world over the last two years there would be few that would argue. Written by J L Ingraham in 2010, it is hard backed with its original dust cover and in excellent condition. Hard backed with 326 pages and an index
SOLD
Caddis - A short account of the biology of British Caddis flies, with particular reference to the immature stages.
Clearly this is a book for the specialist. It has superb illustrations and drawings and if you want to know just about all there is to know about the life stages of the caddis fly (order Trichoptera). This is the book. Written by Norman E Hickin it is hard backed with original dust cover. It has 50 pages which include a complete list of the different British species - there's about 200 of them!
SOLD