Nikon Drawing Attachment
Drawing attachments are difficult to come by these days. This is a Nikon version with a multiplication factor of x1.5. In addition there are F stop and focusing controls. Standard Nikon fitting. GIF and S options.
Price £162.50 + vat
Nikon Photography System
In very nice condition this is a Nikon AFM film camera photosystem with a Nikon M-35S camera back. Parallax focus system with target eyepiece. Standard Nikon fitting. A collectors piece.
Price £170.83+ vat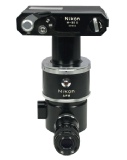 Nikon Phase Contrast Condenser
In excellent condition, this is a Nikon Zernike phase condenser with bright field and phase contrast positions for x10, x20, x40 and x100 phase objectives. Numerical aperture 1.25
SOLD
Nikon Slide Marker
This is a very useful tool for those screening many slides. It has an RMS screw thread which means that it will fit any standard RMS turret of any manufacturer. By simply depressing the unit it leaves an indelible black ring around the area of the slide that is of interest.
Price £45.83 + vat
SZM Nikon Stereomicroscope
One of the classic professional zoom stereomicroscopes that proved the stalwart of industrial application and is still made to this day. This particular unit is in good working order and all original including the Nikon lighting transformer box and unusually the original arm rests. Finished in grey enamel the body work is excellent for its age. Zoom mechanism x0.8 to x4 which gives x8 to x40 overall magnification with the x10 wide field eyepieces. Incident illumination is via a flexible arm system and the light has a click stop brightness control. Transmitted lighting is achieved by introducing the unit unit into the back of the base with an adjustable mirror deflecting the light path upwards.
Price £333.33 + vat
A web site owned and maintained by Brunel Microscopes Ltd

click on the images to see a larger picture
Brunel Microscopes Ltd, Unit 2 Vincients Road, Bumpers Farm Industrial Estate, Chippenham, Wilts SN14 6NQ. Tel: 01249 462655. mail@brunelmicroscopes.co.uk
click on the images to see a larger picture
Nikon is a Japanese microscope manufacturer of a range of quality instruments including super resolution, confocal and live cell screening systems.

Nikon Alphaphot YS
A fine microscope in very good condition apart from a small paint chip on the base towards one corner. The stage is in excellent condition for its age. This has obviously been well looked after by someone well used to using quality microscopes. A binocular microscope with all parts original Nikon. 160mm tube length objectives x10, x20 phase contrast, x40 and x100 (oil immersion) with x10 wide field eyepieces. Coaxial coarse and fine focus with a full centring substage condenser. 6 volt 20 watt illumination system with a field iris diaphragm which allows Kohler illumination. The optical quality of Nikon at a very affordable price.
SOLD
Nikon Binocular
A vintage Nikon microscope dating from 1970 or so from the days when Nikon used excellent black livery giving their microscopes a characteristic shine. The body work on this example is good with just a few minor chips to the base. It is all original with Nikon objectives x4 (0.1), x10 (0.25), x40 (0.60) and HiPlan x100 (1.30) together with x10 wide field eyepieces. Coaxial coarse and fine focus controls and a solid mechanical stage with double vernier scales and drop down coaxial controls. 6 volt 20 watt tungsten lighting with brightness control. Substage and field iris allowing Kohler illumination. A nice microscope.
SOLD
Nikon SMZ645 Binocular Stereomicroscope
A relatively recent zoom stereomicroscope in excellent condition and incorporating removable wrist supports to the base stand. The stand has a rack and pinion focus system throughout and has a transmitted light system with separate transformer control. The zoom magnification range is x8 to x50 and the unit has wide field x10 eyepieces of excellent quality. A modern well presented stereomicroscope from one of the leading brand manufacturers. Recommended.
Price £541.67 + vat
Nikon Trinocular
Nikon is rightly one of the world premier microscope manufacturers, and this is an opportunity to acquire a microscope with quality optics for a very reasonable price. One of the earlier Nikons finished in black enamel. The body work is in good condition with just a few paint chips to the base and scuffing to the stage as would be expected from its use with microscope slides. This instrument has been retrofitted with an LED light source which not only provides better illumination but avoids the problem of finding replacement bulb units which are getting very rare for this model. Nikon objectives x4r, x10, x20, and Apo x40 with x10 eyepieces. Kohler illumination with a flip in/out supplementary lens for high and low magnification. The trinocular head also includes a photoeyepiece for photomicrography . A bargain.
SOLD
Nikon Eclipse 55i Stand
This is an unused Nikon Eclpse 55i stand with even its protective packing paper still in place. It is Nikon part number MBA85040. Obviously it needs a turret, head, stage and condenser parts but is complete with the attach points for this. Massive cost saving.
SOLD
Nikon Eclipse 55i Polariser/analyser Set
These are new unused items Nikon part numbers MBB75310 and MBB75300 that will fit the Eclipse 55 series microscopes. The polariser fits over the light source and the analyser (with push/pull lever fits under the microscope head. Massive saving from the list prices
SOLD
Nikon Labophot Binocular
An excellent example of this classic Nikon microscope. Binocular head with wide field x10 eyepieces and inter ocular and dioptric controls. Large mechanical stage with double vernier and drop down coaxial controls. Focusing substage condenser with lateral adjustment. 6v 20watt halogen Kohler illumination system with field iris control. 160mm tube length objectives E x10 (n.a. 0.25), E x40 (n.a. 0.65) and E x100 oil immersion. The body work and stage are in very good condition. A nice binocular microscope.
SOLD
Nikon Optiphot Binocular
A research standard Nikon microscope. Binocular head with x10 (CFWN) wide field eyepieces and inter ocular and dioptric adjustment. Large mechanical stage with double vernier scales and drop down coaxial controls. The stage shows very little evidence of marks from microscope slides Substage condense with flip top auxiliary lens and lateral adjustment. External light box to the rear with 12v 50 watt halogen lighting. The front of the stand has a voltmeter. Kohler illumination. The five position turret has Nikon objectives x10 plan (0.25), x20 DL phase (0.40), x40 plan (0.65) and x100 plan oil immersion (1.25). Optically a fine microscope, with the only negative being some very small chips to the paint work along the front edge of the base.
SOLD
Nikon Labophot 2 Binocular
A good example of this classic Nikon microscope. Binocular head with wide field x10 eyepieces and inter ocular and dioptric controls. Large mechanical stage in very good condition with double vernier and drop down coaxial controls. Focusing substage condenser with lateral adjustment. 6v 20watt halogen Kohler illumination system with field iris control. 160mm tube length objectives x10 (n.a. 0.25), x40 (n.a. 0.65) and x100 oil immersion. The design choice for this model of the 'leather effect' top to the base was always questionable for a laboratory microscope and there is the customary scuffs and scratches and this is reflected in the price. Quality optics at a very good price
SOLD