A web site owned and maintained by Brunel Microscopes Ltd
click on the images to see a larger picture
Reichert Monocular
This is an extremely rare very early reichert with integral transmitted illumination. Serial number 12585. Finished in brass and black in very good condition. Twin objective turret with twin coarse focus and single fine focus controls and a focusing condenser. There is a field lens and filter carrier on top of the light box which has a 'primitive' transformer system and rheostat control. This still works although there no transformer is supplied because of current safety regulations. A superb collectors piece.
Price £311.67 + vat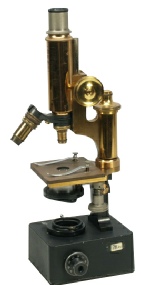 click on the images to see a larger picture
Brunel Microscopes Ltd, Unit 2 Vincients Road, Bumpers Farm Industrial Estate, Chippenham, Wilts SN14 6NQ. Tel: 01249 462655. mail@brunelmicroscopes.co.uk
CTS Polarising Microscope
This is a relatively rare Cooke Troughton and Sims polarising microscope that is now a collectors piece. Serial number M702040 with provenance card and original manual together with its original case that is in excellent condition for its age. The body work is very good apart from the surface of the stage which shows the marks of slides as would be expected. Separate coarse and fine focus controls. Bertrand lens and a graduated rotating polarising filter. In/out analysing filter and mirror illumination.
SOLD
Antique Brass Microscope
This is a fine antique monocular brass microscope in its original case dating from approximately 1890. It has no makers name but there are features that attest to its quality. The cabinet itself is well made and which is very unusual for a microscope of this age it has its key. The brass is in good condition for its age. Large swivel mirror. Coarse focus controls with a separate fine focus system. The microscope has two objectives each with its own brass objective pot and ine eyepiece. The stage has a slide holder and very unusually has a dissection plate assembly with tether points that can be attached to the microscope stage. A genuine antique.
Price £312.50 + vat
J Swift Objectives
A set of three brass objectives by James Swift of London. ¼ inch (numerical aperture 0.80, 1/3 inch (numerical aperture 0.50) and a 1½ inch objective. Condition very good taking into account their obvious age.
SOLD
Watson 1/6th Objective
An excellent Watson objective with its original objective pot. Para 1/6th objective with a numerical aperture of 0.70.
SOLD
Leitz Drawing Attachment
Dating from the 1920's this is a Leitz drawing attachment to fit monocular microscopes. It is rare to find these units that have all the accessory filters still in place. The mirror does show its age but without pickling or loss of mirroring. These drawing attachments depend upon a balance of lighting between the illuminated specimen down the microscope and the light available for the drawing paper hence the range of neutral density filters in the box which can be used to balance the two. Original case in good condition, a real collectors item.
SOLD
Watson & Son Monocular
The serial number 4989 would date this antique microscope to about 1898 or so. This particular instrument has been well looked after and the original wooden case has been sympathetically restored to a good finish. This is a students microscope with a cut away stage to allow larger specimen study at that time. The brass work is in very good condition and there are three objectives and one eyepiece. There is a 'swing out' condenser to support the 'cut away 'stage. The mirror is in very good condition for its age. A very nice collectors item. Quite an early Watson.
Price £229.17+ vat
Bausch & Lomb Monocular
This is a very early Baush and Lomb probably dating from around 1910 or possibly a little earlier. The microscope has been skilfully restored in places which makes it a very attractive instrument. Finished in brass and black which is typical of the age, it has Prior and Beck objectives which are very much in keeping with the style and age of the microscope. The general condition is excellent and the mirror shows very little 'pickling'. Separate coarse and fine focus systems. The case is modern but constructed to fit the period look. An excellent addition to an antique collection.
Price £166.67 + vat
Brass Antique Microscope
From a time when the look of a microscope was as important as what you could see down it. Dating from approximately 1900. This is a long tube monocular microscope in good condition for its age. Single objective (with the original brass objective part) and a single eyepiece. The stage has a simple sliding mechanism that allows traversing the slide. The mirror is in very good condition for its age. The microscope stand is hinged as would be expected for this length of barrel. A very nice addition to any collection.
Price £291.67 + vat
R J Beck 3mm
This is a two tone brass 3mm objective lens by Bake. Complete with original case. Good condition.
SOLD