A web site owned and maintained by Brunel Microscopes Ltd
click on the images to see a larger picture
Reichert Monocular
This is an extremely rare very early Reichert with integral transmitted illumination. Serial number 12585. Finished in brass and black in very good condition. Twin objective turret with twin coarse focus and single fine focus controls and a focusing condenser. There is a field lens and filter carrier on top of the light box which has a 'primitive' transformer system and rheostat control. This still works although no transformer is supplied because of current safety regulations. A superb collectors piece.
Price £311.67 + vat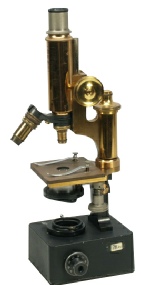 click on the images to see a larger picture
Brunel Microscopes Ltd, Unit 2 Vincients Road, Bumpers Farm Industrial Estate, Chippenham, Wilts SN14 6NQ. Tel: 01249 462655. mail@brunelmicroscopes.co.uk
Antique Brass Microscope
This is a fine antique monocular brass microscope in its original case dating from approximately 1890. It has no makers name but there are features that attest to its quality. The cabinet itself is well made and which is very unusual for a microscope of this age it has its key. The brass is in good condition for its age. Large swivel mirror. Coarse focus controls with a separate fine focus system. The microscope has two objectives each with its own brass objective pot and fine eyepiece. The stage has a slide holder and very unusually has a dissection plate assembly with tether points that can be attached to the microscope stage. A genuine antique.
SOLD
Bausch & Lomb Monocular
This is a very early Bausch and Lomb probably dating from around 1910 or possibly a little earlier. The microscope has been skilfully restored in places which makes it a very attractive instrument. Finished in brass and black which is typical of the age, it has Prior and Beck objectives which are very much in keeping with the style and age of the microscope. The general condition is excellent and the mirror shows very little 'pickling'. Separate coarse and fine focus systems. The case is modern but constructed to fit the period look. An excellent addition to an antique collection.
SOLD
Brass Antique Microscope
From a time when the look of a microscope was as important as what you could see down it. Dating from approximately 1900. This is a long tube monocular microscope in good condition for its age. Single objective (with the original brass objective part) and a single eyepiece. The stage has a simple sliding mechanism that allows traversing the slide. The mirror is in very good condition for its age. The microscope stand is hinged as would be expected for this length of barrel. A very nice addition to any collection.
Price £291.67 + vat
Sibert Objectives
This is a two tone brass objective lenses by Sibert who much later joined with Gillett to form the Gillett and Sibert (G&S) microscope company who were the last of the UK manufacturers to cease trading during the 1980's. Complete with original cases. Standard RMS screw thread. Not often found.
Price £54.17 + vat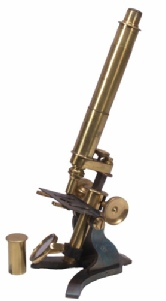 J Swift and Sons Objectives
These are a pair of late Victorian objectives from J Swift and Sons and are complete with their original brass objective pots. They are a 1 inch and 1/6th inch and considering their age they are in good condition
SOLD
Leitz Binocular Microscope
As a collectors item they do not come much more complete than this. A black and brass binocular microscope with a serial number of 270502 that places its date to very early in 1929. It is complete with its excellent very well made wooden case which is an 'Aladdin's Cave' of accessories and all in their original velvet lined boxes that fit neatly into the case around the microscope. The original registration card is still present and in its place. The only negative about the case is that the key has been lost.
The microscope stand itself is finished in black enamel with brass controls and is in very good condition for its age with very little corrosion of the brass. Mirror and gimbal illumination with the mirrored surface in very good condition. A rack and pinion focusing condenser with iris diaphragm and lateral adjustment. Above this is a circular rotating stage that has a brass mechanical specimen driver in place. Triple position objective turret with standard RMS seatings that indexes well. Focus is by the head movement which is controlled by separate coarse and fine brass adjusters. The rack and pinion is in good condition and the angled binocular head has its interocular distance controlled by a central adjuster between the eyetubes. The left eyetube has dioptric control. The head slides out easily when released to enable it to be replaced by the alternatives.
The case has the usual slide out racks for the eyepieces which are all original and comprise x6, x10 and x12.5 pairs. There is also a 'pencil case' type box for auxiliary equipment such as forceps, coverslips etc (not present).
There are two further substantial cases, one above the microscope and the other to its left. The first of these contains the following:
Six objectives that are brass with chrome end caps:
x6
x14
x42
x45
x95
x105
All are complete in their brass cases with the Leitz logo.
A monocular head with draw tube, and a vertical binocular head with straight vertical brass eyetubes. The brass of the eyetubes does show some tarnishing probably caused buy skin contact during hand adjustment over the years. It has interocular and dioptric adjustment. Either of these heads will couple with the back of the turret assembly when slid down the dovetail.
The second case contains a plain circular stage top with slide clips that can replace the standard stage top if required. Whoever originally owned this microscope clearly appreciated and looked after it with care. Exceptional opportunity.
SOLD