Leica ATC 2000 Binocular
In education Leica is without doubt the prestige manufacturer. Aimed at the undergraduate and post graduate markets, the ATC 2000 has excellent features including Kohler illumination. The ATC has coaxial coarse and fine focus control that moves the objective turret up and down rather than the stage. Objectives x4, x10, x40 and x100 (oil immersion|) with x10 wide field eyepieces Mechanical stage with drop down coaxial controls and double vernier scale. 6 volt 20 watt halogen illumination with brightness control. Focusing and centring substage condenser and the stand has a cleverly designed carrying handle at its top. Good condition apart from a few small paint chips along some of the edges of the base
SOLD
Leitz Teaching Head
A rarely found accessory in the used market. a Leitz teaching head with integral moving pointer, will attach to any modern Leitz compound microscope stand and will except two binocular heads (not supplied).
Price £86.67 + vat
Leitz Zernike Phase Contrast Condenser
This is a Zernike Phase Contrast condenser that will fit the Leitz Dialux series. Four position phase rings with a bright field option. Iris diaphragm and phase rind adjustment controls. Condition good.
Price £162.50 + vat
Leitz Dark Ground Condenser
A Leitz dark ground condenser suitable for x10 and x40 objectives for the Ortholux and Dialux models. Lateral movement adjusters and a numerical aperture of 0.80. Condition excellent. Very few of these around these days
SOLD
Leitz Heine Phase Contrast Set
This is probably one of the most sought after Leitz accessories. The Heine phase contrast system is unique to Leitz and developed in order to overcome patent issues.The phase condenser with the Pv phase objectives is iconic. This particular unit has Pv phase objectives Apo x40 (0.70) with coverslip thickness correction, Apo x90 oil immersion (1.15), x10 (0.25) and x20 (0.45). Condenser auxiliary top lenses and a phase telescope. All original and complete in excellent condition . Original wooden case.
SOLD
Leitz Dark Ground Condenser
This is a dark ground oil immersion condenser suitable for x100 objectives. It will fit most Dialux models and is in very good condition. Contains centring screws.
SOLD
Leitz Ortholux II Binocular
Probably the most widely purchased microscope from the Leitz range. Transmitted lighting system with the light path for incident illumination. The body work of this example is in very good condition, but the stage inevitably shows some signs of slides being slid on and off.
Objectives EF x4 (0.12), Plan fluotar x10 (0.30), x25 NPL fluotar (0.55) and x40 NPL fluotar (0.70) and NPL fluotar x50 oil immersion (1.00).
Kohler illumination with a tungsten halogen light source. Periplan GF x10 eyepieces. Coaxial coarse and fine focus controls. Mechanical stage with the usual drop down controls and focusing substage. A fine microscope.
Price £295 + vat
Leitz Stand Alone Light Unit
This is one for the collectors. An all original Leitz stand alone light source. Pole base stand with a lamp unit that has tilt, focus and a filter slot. Original Leitz transformer unit. In very good condition for its age
Price £175.00 + vat
Leitz Phase Condenser
This is a Leitz Zernike phase contrast condenser for the Ortholux 11 with bright field and low power dark field options. Leitz part number 402a it has an integral iris diaphragm and a 'flip top lens operated by a pull lever. Condition excellent.
SOLD
Leitz Condenser
This is a Leitz dovetail condenser with a numerical aperture of 0.25 and focal length of 62. From the inversion of the markings it was probably from an inverted unit originally. No iris diaphragm.
Price £37.50 + vat
Leitz Laborlux 12 Binocular
The Laborlux 12 was probably the most manufactured Leitz microscope of its era - for good reason. A solid body frame, Kohler illumination, coaxial coarse and fine focus and an excellent optical performance are the hall marks of this model. This particular microscope is in very good condition and mechanically very sound. There are some small paint chips to the base and some scuffing to the stage surface as would be expected. The substage condenser has a flip top element to ensure even field illumination irrespective of the objective being used. 160mm tube length objectives x4 EF (0.12), x10 EF(0.25), x40 Plan (0.65), and x50 NPL Fluotar oil immersion (1.0) and plan x100 oil immersion (1.25) together with periplan eyepieces. 6v 20 w halogen illumination. A fine microscope at a good price.
SOLD
Leitz Circular Stage
A Leitz circular rotating stage in very good condition apart from one superficial scratch. Centre removable ring and holes for stage clips and a mechanical stage attachment. Chapter ring in perfect condition. Movement clamp.
Price £45.83 + vat
Leitz Orthoplan Stand
An Orthoplan body in very good condition, with the Kohler illumination system and focusing mechanisms working well. The light source, stage and turret not included. Ideal opportunity to upgrade an existing Orthoplan
SOLD
Leitz x32 Objective
This is one of the first Leitz infinity corrected objectives. It is a plan x32 infinity corrected unit with a numerical aperture of 0.50. Its general condition is excellent.
Price £166.67 + vat
Leitz SM-LUX Binocular
An example of the 'work horse' of the Leitz range. This one has been well used which does show a little on its body work but optically it is still very good. A bargain price to obtain a Leitz microscope. Kohler illumination, full mechanical stage with focusing condenser. 170mm tube length objectives x4 (0.12), NPL x10 (0.25), x25 (0.50) and x40 (0.65. Binocular head with x10 periplan eyepieces. All original at an excellent price.
SOLD
Leitz Mechanical Stage Attachment
Leitz specimen driver for a Leitz circular stage. X and Y movement controls and a dual vernier scale. Condition excellent.
SOLD
A web site owned and maintained by Brunel Microscopes Ltd

click on the images to see a larger picture
Brunel Microscopes Ltd, Unit 2 Vincients Road, Bumpers Farm Industrial Estate, Chippenham, Wilts SN14 6NQ. Tel: 01249 462655. mail@brunelmicroscopes.co.uk
click on the images to see a larger picture
Leica Microsystems GmbH is a manufacturer of superb optical equipment. Leica Microsystems is a successor company of Ernst Leitz that was founded in Germany in 1869.

Leitz Ergonomic Binocular Head
This is a very rare Leitz product. It is an ergonomic head that allows angle of the eyetubes to be adjusted through about 30 degrees to suit the height of the individual. It will fit the following Leitz models Laborlux K, 11, 12, and D, Dialux 20, 20EB, 22 and 3A. Eyepieces not included. Condition excellent.
Price £187.50 + vat
Leitz Specimen Driver
In very good condition this is a Leitz Wetzlar specimen driver that provides X and Y movement to microscope slides when attached to a stage without integral movement controls. Spring loaded tension arm with vertical movement controls. The adapter is secured by a central screw thumb nut with two short located pins either side
SOLD
Leitz (Leica) Laborlux S Binocular
This Laborlux S has both Leitz and Leica logos and was presumably manufactured at about the time that Leitz rebranded as Leica. 160mm tube length objectives Plan x4 (0.1), x10 (0.25), x40 (0.65), x50 fluotar oil immersion (0.10) and a new x100 oil immersion (1.25). X10 periplan eyepieces. Full mechanical stage which does show some marks from slides as would be expected. Kohler illumination - 6v 20watt. In overall good condition with very few marks on the body work. A good looking microscope at a good price.
SOLD
Leica MZ Ergomodule
In pristine condition this is the 50mm Ergomodule for the Leica MZ series stereomicroscope. Part number 10446170. Significant saving.
Price £29.17 + vat
Leitz Ortholux
They just don't make them like this anymore. Built to last with a superb paint finish. This unit is an absolutely excellent condition for its age. Its serial number 602085 dates it from about 1962. It is all original apart from a modern transformer box to ensure compliance with current electrical safety. 170mm tubelength objectives x2.5 (0.07), x10 plan (0.25), x40 plan (0.65), x70 Pv oil immersion (1.15) and x90 apo Pv oil immersion (1.15). Periplan x10 eyepieces.The mechanical stage shows very little surface wear and the chrome controls are free from corrosion and all work well. This is a classic microscope
Price £500 + vat
Leitz Wetzlar Monocular
This microscope really belongs in our vintage or collectors sections. Its condition is excellent and it is complete with its original wooden case and also its original sales card dating from 1959. This was probably the 'heyday' of the Leitz brand and this particular microscope is in really excellent condition. Serial number 503897 and all original. Objectives x3.5 (0.10), x10 (0.25), x45 (0.65) and x100 (1.30) that are 170mm tube length. Mechanical specimen driver stage with a flip top condenser assembly. The microscope has a light unit and also a mirror for use in the field. x10 eyepiece - all original and in very good condition . Recommended.
SOLD
Leitz Laborlux K Binocular
The Laborlux K was one of the more popular of the Leitz stable. This example is in good condition and all original. The stage does show some signs of surface wear from slides over the years but for its age it is minimal. Mechanically and optically excellent . Binocular head with x10 periplan eyepieces. Objectives x4 (0.10), EF x10 (0.25), NPL fluotar x16 (0.45), x40 EF (0.65), x50 oil immersion NPL fluotar (1.00). Kohler illumination, coaxial coarse and fine focus. This unit also has the external adapter that would take the Leitz epi illumination system. A good example at a good price.
Price £337.50 + vat
Leitz Heating Stage
A circular heating stage from Leitz. This will fit the Ortholux models only. It has a circular alcohol thermometer graduated from -10 to + 60. Condition well used with a scratch across the surface as can be seen in the photograph. These are very rare items these days.
Price £50 + vat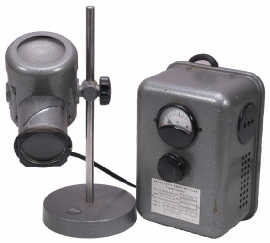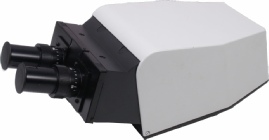 Leitz Projection Attachment
This is a Leitz projection attachment which is designed to clamp over the top of a standard eyepiece so that the angled mirror projects the image from the microscope onto a suitable screen. There is clever angle altering device to ensure the correct angle. The unit is marked with the Leitz name on its back slope. Condition very good.
Price £29.17 + vat