click on the images to see a larger picture
A web site owned and maintained by Brunel Microscopes Ltd

click on the images to see a larger picture
Brunel Microscopes Ltd, Unit 2 Vincients Road, Bumpers Farm Industrial Estate, Chippenham, Wilts SN14 6NQ. Tel: 01249 462655. mail@brunelmicroscopes.co.uk
Watson Stereomicroscope
A very nice example of this classic Watson stereo, with a very well thought out design. Finished in blue/grey enamel, the turret mounted objectives are x2.5, x5 and x10 and are matched with a pair of x10 eyepieces giving a magnification range of x25 to x100. The microscope has a jointed quite long flexible light unit that can provide either incident illumination or is potentially long enough to shine light onto the substage mirror system to provide transmitted light. Dating from around 1960 this is a nice instrument.
Price £185.00 + vat
sold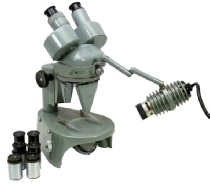 Vickers Patholette
In its day this was probably the microscope of choice for education and schools and there are many used examples. However this one is in very good condition and is now clearly a collectors item. All original with objectives x4, x10, x40 and x100 (oil) with x10 eyepiece. Mechanical stage, condenser with flip top lens coaxial coarse and fine focus. Light unit.
Price £187.50 + vat
sold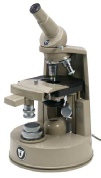 Prior Binocular
A classic microscope from the British manufacturer Prior. The model is all original and is now a collectors piece. Finished in beige enamel with a black binocular head. Large square mechanical stage with drop down controls. The coarse and fine focus mechanisms are combined into a single control. 6v 15watt Kohler illumination system with a voltmeter display. Focusing condenser with lateral adjustment controls and iris diaphragm. Objectives x10, x40 (0.70) and x100 oil immersion (1.30). x10 eyepieces
Price £287.50 + vat
Baker Monocular
A good example of this classic Baker microscope. All original with objectives x3, x10, x40 and x100 (oil immersion) with x10 eyepiece. Mechanical stage with central drop down coaxial controls. Coaxial central coarse and fine focus controls on the base. Focusing substage condenser with centring controls and iris diaphragm. 240v mains illumination. The only negative is a few small paint chips low on the base.
Price £179.17 + vat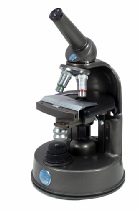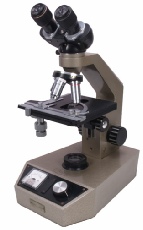 Baker 2120 Binocular
This is a fine collector's piece in very good order with all parts original and working well and is without doubt the best Baker vintage microscope that we have seen in 38 years of trading. It is difficult to fix an exact date of manufacture. Charles Baker was at 244 High Holborn from 1855 to 1959 when they were taken over by Vickers. No serial number list exists although the last was in the region of 40,000. A reasonable guess for this microscope would be 1930's or so. Finished in Baker grey enamel the body work and chrome parts are in very good condition. Full mechanical stage with two substage condenser systems. A phase contrast plan condenser and an oil dark ground condenser with a screw on dry condenser element The illumination stand allows the microscope to be fixed in place or removed and of particular interest is that there are 5 spare lamps to keep you going.
The objectives are Baker x100 phase oil immersion, Vickers/Baker x10 phase and Vickers x40 phase and x10 Baker eyepieces. In addition there is a monocular head. We are even tempted to keep this for ourselves!
Price £437.50 + vat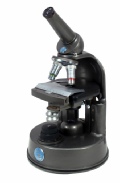 Baker Monocular
This microscope dates from the days that the principal microscope manufacturers began to merge their production lines. This Baker microscope is the same shape as Vickers models of the same time. This is all original in in good condition. Objectives x3, x10, x40 and x100 (oil immersion) with a x10 eyepiece. Mechanical stage with coaxial front positioned controls. Full substage condenser with flip top lens. Tungsten illumination. Front coaxial coarse and fine focus controls. A few small chips on the paint work but altogether a nice microscope.
Price £179.17 + vat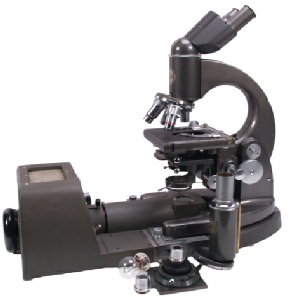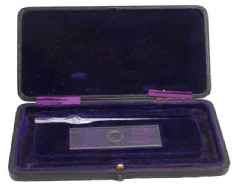 Thoma Hawksley Haemocytometer
This is a throwback to pathology of yesteryear when mouth pipetting was allowed. The counting chamber was used to calculate the number of red blood cells as part of the diagnostic tests needed in the 1950's. A fixed amount of blood was mixed with a fixed amount of isotonic saline and the number of cells counted. Complete with its velvet lined case.
Price £33.33 + vat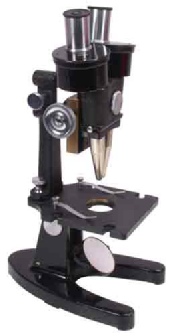 Baker Stereomicroscope
This is one for the serious collector. It is a Baker stereomicroscope serial number 20470 which dates it to the 1950's. It is all original and in excellent condition. It has an objective pair of 1¼ x and x10 eyepieces. What is very clever about its design is the fact that the stand structure enables the head to be positioned for either flat specimens or those which much more depth. This system was unique to Baker at that time. The focus is by rack and pinion and there is a mirror system for transmitted lighting and the stage has specimen clips. This is an excellent piece of British microscope production - a fine opportunity.
Price £216.670 + vat