A web site owned and maintained by Brunel Microscopes Ltd
click on the images to see a larger picture
Brunel Microscopes Ltd, Unit 2 Vincients Road, Bumpers Farm Industrial Estate, Chippenham, Wilts SN14 6NQ. Tel: 01249 462655. mail@brunelmicroscopes.co.uk
click on the images to see a larger picture
Japanese microscope manufacturer of high precision and specification equipment. One of the market leaders.

Olympus VMT Stereomicroscope
Olympus probably sold more of these excellent stereomicroscopes than any of their others models. Sturdy, well constructed and with an excellent optical performance sums up the attributes of the VMT series. This particular microscope has x20 eyepieces with x1 and x2 objective pairs in the turret giving the magnification options of x20 and x40. Rack and pinion focus control throughout, stage clips and glass dissection plate. Very good condition all original.
SOLD
Olympus VT-II Stereo
One of the classic Olympus stereos. Objectives x1 and x2 with Wide field x10 eyepieces. Giving the magnification options of x10 and x20. Rack and pinion focus with an integral carrying handle. Finished in grey enamel with a dissection plate. Condition good
Price £166.67 + vat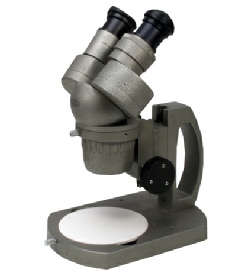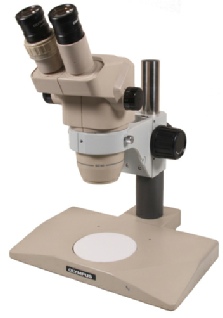 Olympus SZ30 Stereomicroscope
The Olympus SZ30 microscope is a zoom stereo microscope that has been refurbished and is still in excellent working condition. The Olympus SZ30 features a good zoom range of 0.9x to 4x that provides crisp images, giving the user the ability to view the specimen at 9x to 40x magnification. This optical instrument has a large working distance.
Ideal for use in industrial, biology, and geology microscopy applications, the reconditioned SZ30 from Olympus is extremely easy to use. The microscope has a binocular head and a plain stand with pole coarse and rack and pinion fine adjustment.
The stand has been well used over the years and there is some corrosion to the underneath of the base but this in no way effects its optical performance. A bargain price for a quality microscope.
SOLD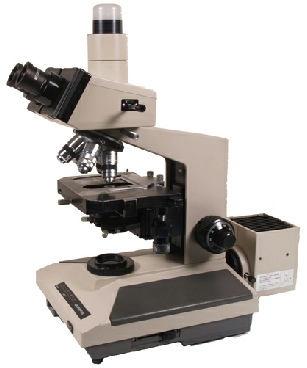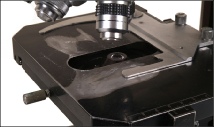 Olympus BH2 Trinocular
The first thing to say about this example of an Olympus classic microscope is that the surface of the stage is very worn, so much so that there is a picture of it below the microscope so that you can be very clear about its condition. This microscope was the work horse of a pathology haematology laboratory this is why it has an excellent x50 oil immersion lens as stained blood smears are examined for pathology with such a relatively unusual lens. The loss of the anodised surface has simply been caused by the constant off/on of slides on its surface. BH2 microscopes are as strong as the 'proverbial ox' and were built to take this level of use and it would be an optical sin to retire it because of the stage surface so we offer it at a really exceptional price.
Make no mistake, its optical performance is excellent. It has five objectives D Plan x4 (0.10), D Plan x10 (0.25), S Plan x20 (0.46), D Plan oil immersion x50 with iris diaphragm and x100 oil immersion (1.25). The trinocular head has x10 wide field plan eyepieces that are also suitable for spectacle wearers. There is a three way lever that adjusts prisms in the head to allow all the light to the eyepieces, the trinocular tube or shared between the two.
The external light box houses a 12 volt 100 watt lamp and the brightness control is on one side of the base with a running light indicator on the front of the base. The illumination system is a full Kohler system
SOLD
Olympus BX40 Binocular
The BX40 series was launched in 1993, used a novel Y-shaped design for the microscope body. The series featured superior operability, excellent rigidity, and first-class optical performance. A wide range of accessories was also available to expand the range of possible observations. Olympus succeeded in providing the optimal viewing environment. While developing UIS objective lenses, Olympus worked on designing a Y-shaped microscope body to further evolve the AH2, BH2, and CH2 series with excellent optics and a system versatility.
The halogen illumination is 6 volt 30 watt and is controlled by levers on the right hand side of the stand with a brightness slider and also a preset button to optimise lighting for any preferred setting. The illumination system is of course Kohler. The good size stage has drop down coaxial controls and has X Y movement via a unique system there is a slight catch from front to back on this unit but it is minimal. The objectives are the original Olympus x4, x10 and x40 that have been added to with new plan x20 and x100 oil immersion lenses.
This unit has the ergonomic head which allows its operating angle to be set to suit the individual. It has x10 wide field eyepieces that are also suitable for spectacle wearers. A small point but it does show how this microscope was looked after - it still has its original Olympus Allen key. A fine microscope by any standard.
Price £1208.33 + vat

Olympus BH2 Trinocular Phase Contrast System
The Olympus BH2 needs little introduction as one of the classic Olympus professional laboratory microscopes. This is a very complete system. The trinocular microscope has a full Zernike phase contrast system and is complete with a Canon 1000 digital camera back with the correct adapters to fit. The Olympus objectives are x4 Plan, xA10 Plan (0.25), xA20 Plan (0.40), xA40 Plan (0.65) and xA100 Plan oil immersion lens (1.32) (A denotes phase contrast). In addition to the appropriate phase rings the condenser has lateral adjustment and a bright field position.The eyepieces are WHK x10/20L, and there is a phase telescope for setting up the phase system. The Kohler illumination system has 6 volt 20 watt halogen lamps and 2 spare lamps are included. On the front of the base there is a moving LED lighting stream that shows the current voltage during use. The low position coaxial coarse and fine focus system has a depth indicator scale, tension adjustment and focus stop.
The Canon camera back fits into the trinocular tube with a Brunel universal adapter with integral photoeyepiece. The camera also has a mains power adapter and a cable release to minimise camera shake. It is also possible, through the camera menu, to force the mirror up again in order to reduce camera shake at exposure.
The general condition of this unit is excellent having had one owner only since new.
SOLD
Olympus Drawing Attachment
Drawing attachments are hard to come by these days. This is the BH2-DA that fits the Olympus BH, CH and AHB microscopes. It is used to visually superimpose the image of a specimen over the surface image of a drawing paper placed beside the microscope so that the specimen image can be traced on the paper. The Model BH2-DA permits drawing in a bright room without any more light intensity than required by ordinary microscopy. It contains a photoeyepiece NFK5X and has three setting positions (A, B, C) to suit which of the three microscope model types listed above is being used. Condition very good.
Price £195.83 + vat

Olympus Condenser
This is an Olympus microscope condenser with a potential numerical aperture of 1.25 with a dovetail fitting that will fit the Olympus BH and BX microscopes. Integral iris diaphragm and in very good condition.
Price £62.50 + vat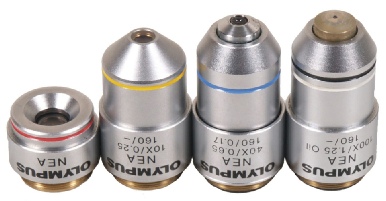 Set of Olympus NEA Objectives
This is set of NEA series objectives in good condition. X4 (0.10), x10 (0.25), x40 (0.65) and x100 oil immersion (1.25). Din standard with standard RMS screw threads. Corrected for 160mm tube length and coverslip thickness 0.17mm.
Price £145.83 + vat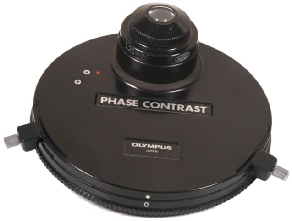 Olympus Zernike Phase Condenser
This is a phase contrast Zernike condenser that will fit the BH and BX Olympus microscopes. It has a bright field position with phase rings for x10, x20, x40 and x100 objectives, with the usual ring lateral adjustment mechanism. Condition excellent.
Price £104.17 + vat